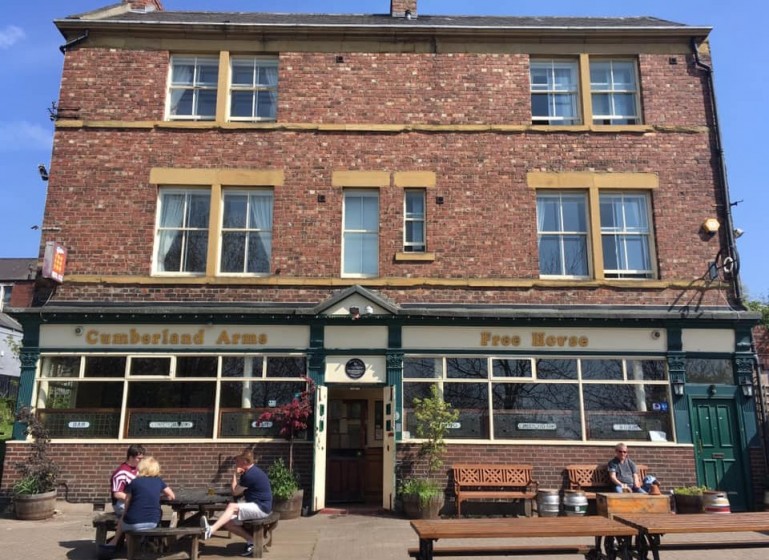 The Cumberland Arms
A World of it's own
The Cumberland Arms is a either a bit mad & left field, or the rest of the world is - you decide. It's a really, really great bar, the type of which you might not think exists anymore.
They do the real ale thing & have a top take on toasties & nibbly bar food. There's a live venue going on upstairs, with bands & Whose line is it anyway? type comedy capers.
All sorts of weird & wonderful stuff happens here & very often when you walk in through the door, it can feel like a total other world.
So cosy it's ridiculous.
Well worth a visit
It is another good reason to pay a visit to Ouseburn Valley & it is just up the hill from the Cluny.
With a well furnished, outside, sitty down bit, in winter, they'll hire you hot water bottles & blankets at the bar if you wanna still sit out. It's a hoot going to their audience participation busker nights – really flippin' far out.
It's got a lovely outside space.
Hey nonnie vibes
There's nights devoted to gangs of ukulele playing punters, who look like they just popped in unexpectedly & all started strumming together by coincidence.
They also have a sporadic, bizarre, ongoing thing with Morris type, sword wielding dancers. They just appear out of nowhere, do mad jiggs around the Bar, then skip off like loons down the road...
See, told you - it really is that far out.
Boozer of Thrones
There are 2 rooms downstairs, so you can escape all the folkiness if you wish & as well as the live upstairs venue, they have also added a cosy B&B that gets some rave reviews.
The Cumberland is Old Skool in every sense & has remained virtually unchanged for decades. It honestly wouldn't look out of place as a Game of Thrones Bar set location.
Tyrian..? You've just missed him mate.
Alongside all of these unique selling points, there is a proper intimate cosiness to this place & in the winter when the fires are lit, it feels like a completely different country. Goes without saying that the staff are cool, as you can't have a great bar without great staff.
Daft people might think it's 'quirky,' but they've missed the point...
The Cumberland is representative of a genuine subculture. It's a fantastic place, a rare building that simply exudes cross-generational joy. A regional, possibly national treasure & at times, a parallel reality.
Without question, it's absolutely one of the finest places to drink in Newcastle & you should check it out.
That is exactly what you want to see, right up ahead, on a magical night such as this.
---
Related Articles