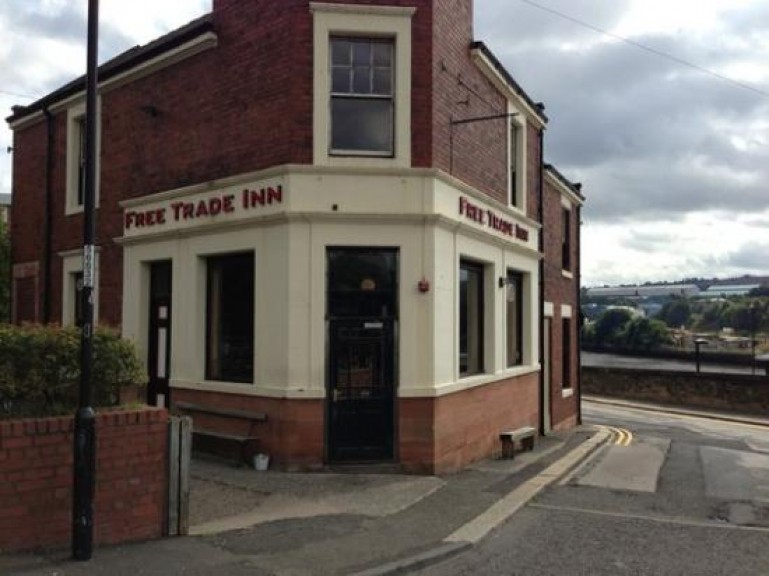 The Free Trade Inn
The Time Machine
The Free Trade Inn is on St Lawrence Road at the far end of the Quayside. It's a totally unique Old Skool place. You could call it quaint… or you could say they haven't decorated since the 60s.
It has a well better than average jukebox & the best views of the River Tyne & its many bridges that anyone could wish for.
View down the River Tyne from inside the Bar.
Tis the seasonal
The FT is a proper summer pub with a big grassy seated outside bit & it's also a winter pub, once Autumn comes, the dark nights draw in & they get the real fires going.
Once it snows, this is exactly where you wanna be.
Even though it's a really little place, you get an unrivalled connection with the seasons at any time of the year, through its massive windows.
It's one of those spots that would seem to be crying out to be done up, on the one hand, yet almost magical in its unchanging, dilapidated charm on the other. We used to dream of owning it when we were kids & way back in the day, it was the scene for one of our most debauched staff Xmas parties ever.
The outdoors indoors.
One of a kind
Loving the FT is sort of a mark of how well you know the City, as it's such a long standing & unchanged institution. If you've never been to the Free Trade Inn, you are not really living in Newcastle yet. The last of a dying breed, frequented by many folk who like Ale, though not all of them have beards.
To die for.
A great dating bar, as it provides a total counterpoint to any other bar you may visit on a night out. The clientele are varied & you never know who you might bump into.
Cosy, quaint & dead easy to fall in love with.
---
Related Articles