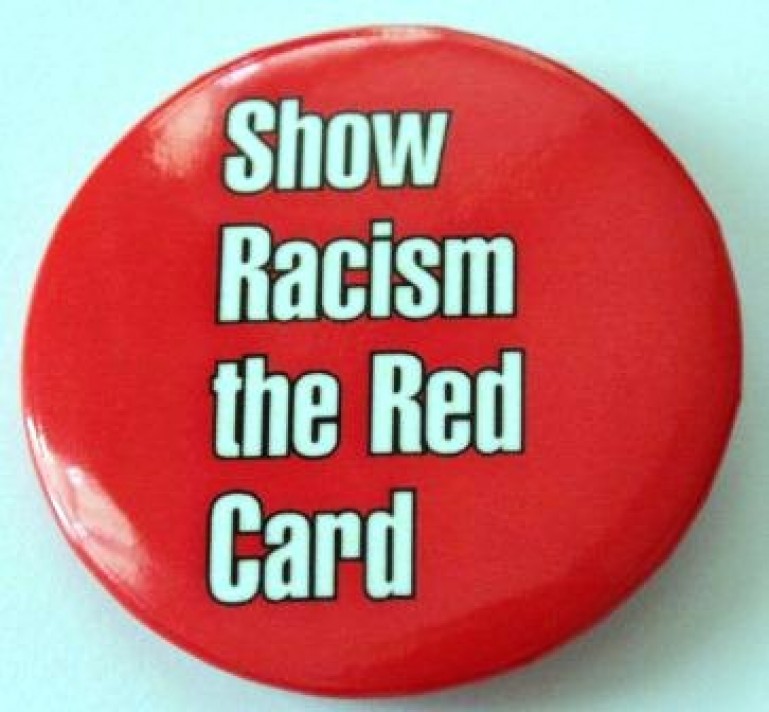 Show Racism the Red Card
Whitley Bay's Finest
Show Racism the Red Card are some cool chums of ours, running a charity committed to fighting racism in all its forms, from a grassroots level.
They use high profile celebrity footballers, to assist them in getting young people to engage & challenge all the destructive daft nonsense that racism perpetuates.
They have gone from a tiny little bedroom based organisation started in Whitley Bay in 1996, to a global concern, with offices all over the world & links to all the internationally famous, major football clubs you can think of.
Every year they release a set of team photos online from each club, with the various teams all lined up.
Young fans all want a team photo, so they download them. Then, when they hang them on their bedroom wall, they can clearly see the different Clubs support for the cause.
As football is among the most racially mixed professions in the country & has a great many young fans, this is a powerful tool, to raise consciousness with the kids, nipping racist fiction in the bud.
Inspiring young people in schools
SRTRC actively go out to local schools & do presentations & workshops, encouraging young kids to debate topics around the issue of discrimination.
With the economy as it is at the moment, there are a lot of people, from all walks of life, who are allowing insidious racism to creep back into their political opinions.
Once that happens, it's a short trip home & by taking those views into the family home, they expose them to their kids & racism begins to take root in their children's consciousness.
Having school visits from SRTRC, gives these kids a chance to challenge these negative influences, giving them a forum to openly debate their own opinions.
This debate is the catalyst, to make them consider & freely discuss different points of view (as well their own) & it provides a counterpoint to any of the negativity they have been exposed to.
Kids are funny – Once you give them all the info, they're a lot smarter than you might expect. The positive impact of SRTRC volunteers visiting schools with all that info, can't be overstated.
Engaging with the wider community
SRTRC also hold regular family open days across the region at sports centers, where footballers will come & hold question & answer sessions.
Kids can play 5 a side, there are trampolines, arts & crafts & all manner of stuff going on to engage the children (& their parents) in the anti racist message.
Our resident weekend Dj has spun the tunes at these events in the past & they are always a really great day out. SRTRC are always looking for new ways to engage & connect with people, including making movies & holding many other types of dos.
They put on amazing comedy shows, Stand Up Against Racism every now & again too. We went & we were crying with laughter!
Tarzan walks in the doctors
Out of the blue one day, they invited us to a garden party at No.10 Downing Street, when Labour were still in power & Gordon Brown was Bossman.
They wanted to acknowledge the great work SRTRC do, so they held a reception for them there. We were so all over it & we hung out with loads of top footballers, had a few (too many) drinks & told The Prime Minister all our best jokes…
Honestly, could you even imagine it..?! Just picture a proper boiling hot, Summers day in No.10 Downing Street's massive back garden, packed with celebs…
'Gordon… Gordon..! Gordon.!! You're not listening – Right mate, Tarzan Ok? Tarzan, walks in the Doctors & he says, Doctor, you've got the help me..! (cue audible sigh…)
We even rocked the one about the Balloon family – Ha! Honestly it was hilarious & we can vouch that Gordon Brown is a cool guy & really funny with it.
A great day out & at the invitation of a great bunch of people.
More recently they invited us to come & hear the inspirational Doreen Lawrence (Stephen's Mum) speak, when she was visiting Newcastle at the Civic Centre.
SRTRC & WHQ
We first encountered them on a trip we took to Holland many years ago (see History section), when we became firm friends.
We have often co promoted events since then, to help them spread their anti racist message.
This also gave them a chance to recruit volunteers, from the many sweet people who come clubbing with us, to World Headquarters at the weekends.
At WHQ we are very proud to number SRTRC among our true friends.
Ged Grebby, our great chum & SRTRC Chief Executive.
Why not volunteer..?
They are always looking for more volunteers to go into schools to run sessions. Full training is given, so if you want to help fight racism & change the world into a better place, there is a great way to begin.
They are a fab bunch of people, doing really, really, important & worthwhile stuff, so drop them an e mail today to info@theredcard.org
SRTRC Website
To visit their site & read the full backstory to SRTRC click here.
---
Related Articles