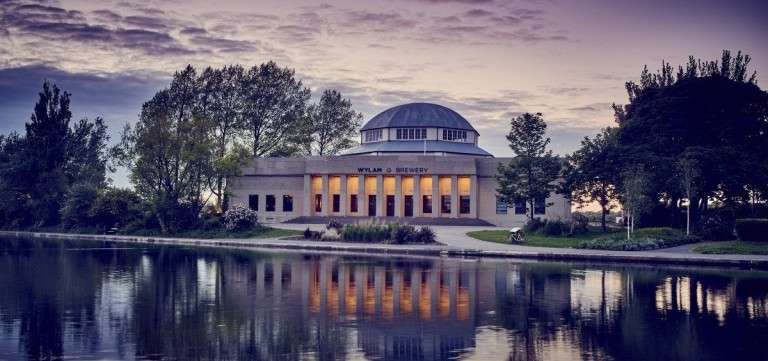 Wylam Brewery Palace of Arts
Training for Park Life
The Palace of Arts in Exhibition Park was built yonks ago when everyone either had servants or was one. It was erected for the Exhibition of the North in 1929 - thus Exhibition park. Here is some mad footage of it & you can clearly see a selection of Marys off Downton Abbey, the lake & the building that is now Wylam Brewery around 41 seconds in...
We first encountered it when our Tribe expanded in the early 90s. Nothing like a coupla infant Apes to make you take notice of the city's parks.
The Grandpa Gorilla in our crew is a train enthusiast & he used to take the baby Gorillas on a Sunday, to ride on trains out the back of where this place is. The trains were like model ones, but a lot bigger, all accurately scaled up & running on real steam, so it was like a train fanciers paradise & great fun for the kids.
There was a big track back there & they rode around all afternoon, kinda like Thomas the Tank Engine was real..?!!
To our really small Gorillas back then, that was a really massive, massive deal & this goes on out the back of there these days on a Sunday still.
Choo chooooh..!
We think back even before that time, it was some kinda military vehicle or coach museum..? We have a vague memory as kids, of being in there & seeing like tanks & big funny looking carriages.
Anyway this building hadn't really been used, or properly open to the people of the city for years, so it was great to see it come back into circulation.
The Tap Room & Brewery
The Wylam Brewery crew have it now & they have hustled the place from a total wreck, into a state of the art 21st century brewery, bar & fab venue space. It's like drinking for grown ups & it's got a cool, minimal look, though it is nice & comfy.
Always a cool crowd.
It's a beer thing so there's a load of different ales always appearing at the bar & a total lack of any center of town Geordie Shore knackerbrains.
Inna de Ghetteeeoh
Anyone who knows the city well, is aware what's up at the moment over that way. Jesmond, especially Osborne Road is pure rubbish bar wise.
Geordie tinkers day out in the Jesmond ghetto.
The standard is so poor over there, that it's a toss up, to try to find the one or two bars, where you don't whiff the toilets the minute you walk through the front door. Honestly, bar one or two it's total mainstream wank.
Socialising Redefined
That's deffo not the case at Wylam, it's spotless & smells lovely, with an exposed steel, brick, wood & minimal look & feel. It's got load of places to sit too & chill a really nice, large outside decked bit.
Doors just opened for Sunday lunch - best hurry up & get down as it's mad popular.
You have to remember that this is in the middle of a lovely park, on the border of the Town Moor, so it's a nice walk to get there, a nice walk home & a 'peaceful oasis, in the heart of the city' vibe is deffo on the go here.
Saw a load of rabbits kicking it round there the other day, thankfully little Ronnie the Dog wasn't about or she'd have gone bananas. It's like a little slice of the country, just 5 mins from town.
With that as an added plus, they've locked the wedding thing too & billions of people choose this as the place to get hitched.
Ah luv yeeee.
The beer selection is just daft as there is quite literally all sorts of everything. Beer is a big deal here & they host live shows, food stall days, Dj sets & rock that just being a great bar & place to drink vibe.
You gotta remember that this an actual brewery too & these dudes have single handedly put city center brewing back on the map, resurrecting a age old Newcastle tradition dating back centuries.
They debut in-house brewed, new beers all the time.
Food is big deal here too as it's the full package & here is a pic of what can look forward to on a Sunday for your dinner...
Best Sunday dinner in the Toon - hands down.
The Mark of Quality
The building is really striking & it's heartwarming to see it back on the block & shining so brightly. Well done those boys, Newcastle isn't gonna change itself & anyone can see how much work, risk, self belief & bottle that must surely have taken.
They've even got a little Steely Dan lyric checked photo booth on the go. Just that one touch on it's own, is like a statement of intent for absolute quality.
Ok, review over. You gotta go here - Simples. A rediscovered, resurrected, architectural & celebratory gem, for the good people of Newcastle to all to enjoy for years to come. We do a load of our big WHQ & Nat Turner Live shows here & we love it.
That's how real, lasting culture starts, it's not by spending a tonne of free lottery money on daft, up their own squeak cleft places, that nobody but 'Dah'ling luvvies' go to.
Gig time at night.
Thus, what the Wylam Crew have done here should be applauded by all & it should be a the very top of your must visit list.
---
Related Articles