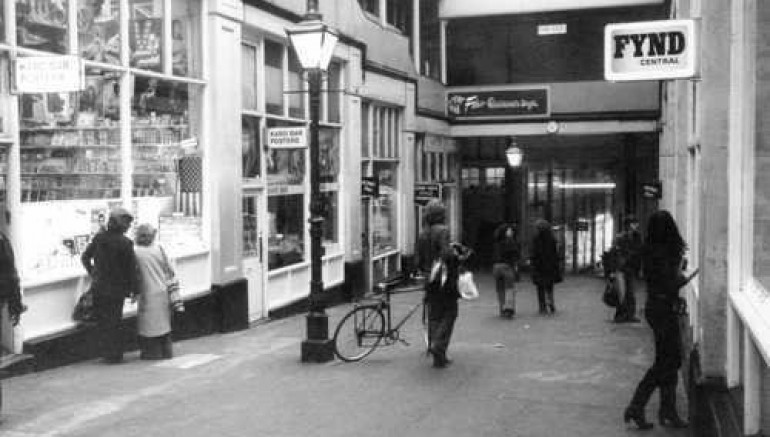 Fynd & the magical Handyside Arcade
Here's a cool little vid of the Handyside Arcade, from the 60's for context. However, we didn't rock up until the 80's. The Arcade played a pivotal role in our early 'search for place' in the city.
In the 1960s the famous 'Club A Go Go' was situated on the 2nd top floor here & stories abound of Jimi Hendrix sticking his Fender guitar through the ceiling when he was wigging out on stage. The Stones & all the major 60s acts passed through there on the way up, so the place had a vibe.
From 1981 we worked in the beautiful old Handyside Arcade (now flattened to make way for the Eldon Garden Mall).
This was a great place, a hidden, genuine Victorian architectural gem, that had fallen on hard times & become a proper centre of youth culture.
The Arcade in the 60s, it was like a little crescent, set back, gently elevating up from the pavement from two separate entrances. You can see both here on either side of the pic & the Club A Go Go was up on the 2nd top floor.
Rocker's Delight
By the late 70s & early 80s this was where everybody who was not involved in the city's rampant, middle of the roadness, hung out. Skinheads & Punks, totally whacked out from sniffing glue, Mods, Hippies, Rockers, you name it…
The Hippies & Rockers had bars & the Mayfair Club they could go to as well & their whole rock scene was a really massive Newcastle youth culture movement at the time.
Early 80s Rocker Poodles - a bit like modern day Cockas... Just with more hair
The 80s characters that made magic tick
Whether you were a full on, card carrying weirdo, or like us, just kids who would catch a beating if you ever went to the Bigg Market, then the Arcade was where you went & hung out all day, working in the shops with all your favourite cool people.
Marie, Tommy, Erica & Marshall - Arcade gang 80/81
Nicola, the 80s Arcade 'Queen of the Rock Chicks' with the late, great Phil Lynott from Thin Lizzy
More Arcade gang 80/81 - Horse, Karen, Gentleman Joe, Swedish LIz.
What went down
The Arcade was full of shops. There was Kard Bar that sold posters, badges, poppers, sew on patches & had Space Invader machines (which were brand new & thus mega, mega exciting at the time).
View of the Kard Bar From the Fynd Hippy Shop doorway...
Everyone looked daft but felt mega cool. The hippest place (in truth) was 'Frisco,' which was run by a really cool guy called John Woods.
John was a drummer who had been in bands with artists like Robert Palmer. He was a lovely fella & Frisco sold second hand gear from the USA & evolved over time, into the well known vintage clothing store that's now called Flip.
Original Frisco shop front in the Arcade back in the day.
There was also 'Fynd', which was run by another cool dude called Derek Kirkup. It was a kind of little Hippy-based chain.
Fynd had a Hippy shop selling Afghan coats, bullet belts, incense, second hand records, weed smoking paraphernalia & Patchouli oil, which the entire place stank of, as all the little Rockers loved that pong. They also had a Punk shop selling bondage stuff, spiky wristbands, crazy hair dyes & a second hand Vintage clothing outlet too.
There were loads of other quirky little places in the Arcade, including Frank's mad Pet Shop, a couple of Antique furniture / junk shops, a really dark, smokey Wine Bar called Denhoffer's, a guy called Burman making world class valve guitar amps & a Jeweller dude too, selling coins & pawning gold.
The place was full of other mad little shops, many of which by the 80s were really run down.
Sadly missed out on by future generations - the city planners of the day should have hung their heads in shame.
That dude from the old Jazz Cafe on Pink Lane, Keith the Jazzman, with the Santa beard who died a while back – him & his chums would be in & out of there too.
It was the kind of place where stuff went down & the place that taught us how to properly master the art of selling & how to run a shop.
When the kids were hanging, they hung right here.
Cash for work, work for cash
We worked in all of the Fynd shops, but mainly the one that bought & sold the tunes. Working there got us really into Brian Eno, Robert Fripp, David Bowie, Joni Mitchell & a load of cool white artists we had never been exposed to before.
This was because we bought & sold people's record collections & played music in the shop all day long.
Joni & David crashed into our lives & will never leave.
Initially we got £3.00 a day (How mad is that..?) Over time, once they realised we had a natural talent for buying & selling that went up to £6.00 & then eventually £10.00.
We were switched on & worked really hard, as despite the rubbish money, it was a really cool job in a cool place, where fascinating people (& hippies) hung out.
Percy Street entrance to the Arcade late 70's?
Architectural Vandalism
The Handyside Arcade was demolished in 1987, in the name of 'progress,' to make way for the Eldon Garden shopping complex.
That's the one where half the shops remain empty even today & hardly anyone goes. A sterile & useless modern monument, to poor planning judgment, tunnel vision & developer greed.
Would you renovate, or demolish this..?
A major focal point of the city's youth culture was destroyed forever along with it. It remains the greatest act of architectural & cultural vandalism, that we have ever seen take place in the city.
The Council officers who signed off on that project at the expense of preserving the Handyside, should (in our view) still today, be hunted down, publicly whipped & jailed for life.
You are looking at a really, really stupid thing our city did.
Moondancer
This is Moondancer (AKA Robert Stott RIP), an Arcade & proper Old-Skool Newcastle legend, who was a great chum of ours.
He was the epitome of a free thinking Jesmond hippie, poet / shaman-type dude. We went on little, sort of 'holidays' together (easy tiger…!!) & hung out a lot, talking all night off our rockers & putting the world to rights.
He was the ultimate hippy outsider & he influenced us greatly back then.
The Moondancer, sadly missed & never forgotten, having it large on Lilly Crescent... x
That dude that was on Celeb Big Brother one year, James Whale (Editor's note: bit of a dick), used to do the Night Owls phone in show on Metro Radio at the time & Moondancer would often ring up, off his nut & chat nonsense to him.
You met some bliddy characters in that Arcade!
---
Related Articles