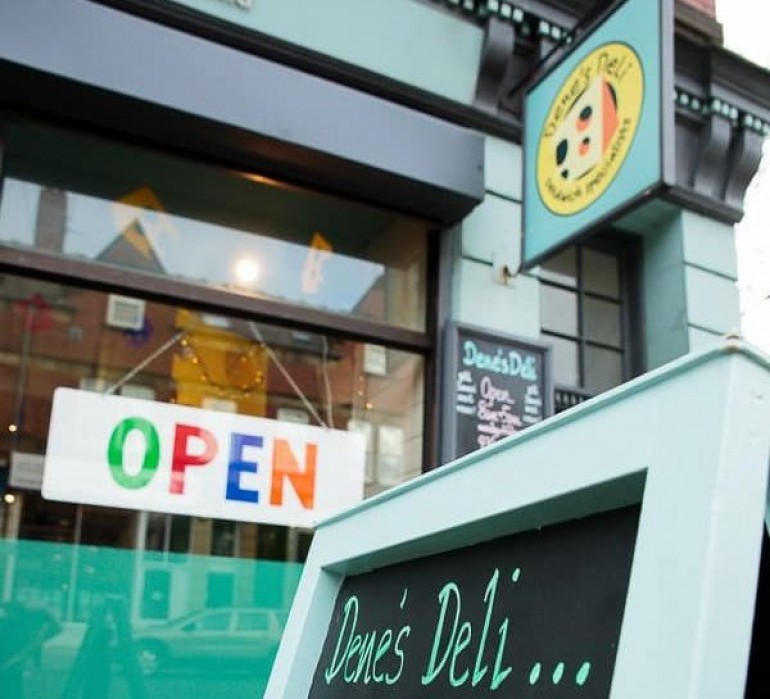 Dene's Deli
Sandwich Heaven
Nice & cheap, so everyone can get a bite… Dene's Deli is a Newcastle institution.
When you see this - skip ten steps forward immediately.
It's located at the bottom end of Jesmond, in an area called Cradlewell. It's near the Dene & for decades they have been making the best sandwiches in the city. If you think that sandwiches are much of a muchness, you'd be wrong & obviously haven't been here yet.
If you were waiting for a sign - this is it.
The Market Leader
This place is the original gourmet sandwich builder, a specialist shop, that every single day people flock to, from all over the city to get their lunch.
Any & all new sandwich shops around here, always try to open with a bang, pretending to be like Dene's Deli when they first launch – But give them a while & they fall short.
Sandwich squad.
In such a wildly competitive sector, people are not prepared to put in the kind of graft it takes, to establish & then maintain the standards & quality required, to raise the reputation of a business like this one, up to a level that equals the cult status DD holds today.
Sandwich shops are ten a penny & people can go anywhere, but the fact is, they don't & they all just come here every day instead. Why is that..?
Squeaky clean every time.
You name it – they've got it. All fresh, all great value, all bases covered (& we do mean all bases). They also have shelves of really fab biscuits, bottled sauces, rare bags of crisps & do deliveries too.
Mad bread, mad dressing, mad filling – If you ask for it? They'll be able to construct it for you, just how you like it. Bespoke crafted & made to measure. They also do fab outside catering.
Buffets, parties, all that caper.
Old Skool
Over the years, at times when we have been up all night partying or making flyers etc., we always popped in Dene's at lunchtime the following day. Usually still in a bit of a state & we'd joke around, about the most outrageous sandwich combination to ask for…
This provided us with endless hours of munchie-induced hilarity & the best idea we think we ever stumbled upon, was – Swordfish & Trombone… Ha!
A menu to die for.
100% Immaculate
Some sandwich shops in town are really low budget. DD is the polar opposite of those places & whilst the unenlightened among you may label DD as merely a posh sandwich shop - that's only because you are confusing the word posh with the words spotlessly clean & civilised, which every single aspect of this place is.
A top of the game, market leader, that all the rest copy.
Tonnes of goodies you'll never see anywhere else.
So, if you are a new student you must check this place out Ok? You will love it – Real proper food. Your parents back home, would be both happy & relieved, if they knew you had the option to eat somewhere as high quality & affordable as this, just down the road, whenever you liked.
Best looking building site we've ever seen.
Nan Bread
As we've said, DD is already totally spotless & since the pandemic caper hit they have gone even more nuts with it, installing fly perspex screens & all the extras...
Oct 2020 - Hand sanitiser bottom left, perpex screens installed & 100% covid secure in fine style.
You'll honestly walk in & feel so safe, next thing you'll be dragging your Grannie outta that pokie care home & plonking her down on the counter for safe keeping..!
Awards a Go Go
They really do merit very high praise indeed & in fact, some (us included) would say, that in Newcastle, Dene's Deli is to sandwich shops – what WHQ is to Nightclubs.
Local papers tell truth (for once) shocker..!
Dene Deli is UK famous & has won the national 'Best Independent Sandwich Maker Of The Year' & tonnes of other well deserved awards too. Top Marks..!
When your business is this fly, you must already know it - but it's still cool to get top national awards.
---
Related Articles