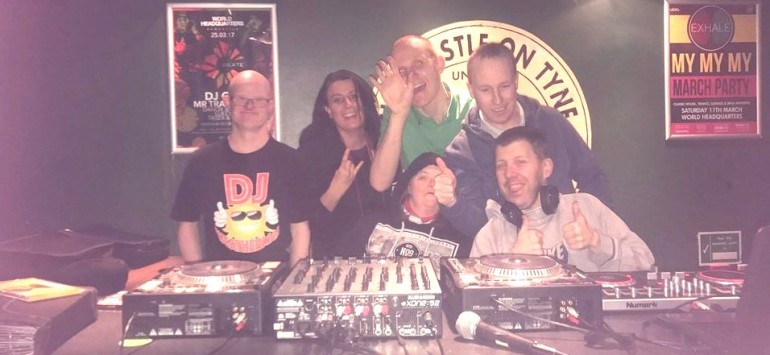 21 years of the amazing Fresh 2019
A safe & welcoming 'Fresh' environment
Of the multitude of different types of events that we host at WHQ, (in our opinion) probably the most worthwhile & certainly the longest ever running, is called 'Fresh'.
It's a Club event that takes place regularly, on the first Tuesday of each month from 6.00/11.00pm, catering specifically for our friends with Learning Disabilities &/or Autism.
Fresh celebrated 21 years of inclusive clubbing here in September 2019 & is still the only nightclub event of its kind in the city.
Everyone can have a crack at DJing while their chums party & it's a real community event, which many people attend religiously every single month.
A safe & welcoming environment is guaranteed by us & if customers have carers they are always welcome to come along. They also do fab live shows here on special occasions, like Halloween & St. Valentine's too.
How Fresh @ WHQ came about
We've always wanted WHQ to be accessible to everyone, that's why we set the Club up in the first place & why we began staging Fresh all those years ago.
Originally, we did it working with an organisation called 'ID Interactive Development.' Yonks ago, one of our ex team members, Handsome Gordon, was involved with ID, so we were able to hook up with him to get it on here.
All these years later we still hold Fresh each month & our chums at 'Twisting Ducks Theatre Company' have now taken it over from ID & promote it. They do a great job & have really broadened its appeal over time.
The Ducks are a fab organisation. Our pal there Jay & his chums have strong connections & are able to engage the community. They also provide them theatre & other interactive daytime experiences from their base in Heaton.
World HQ & Twisting Ducks - The Fresh Crew.
Think about it
This section of the local population is particularly marginalised, with most facilities for them only available via organisations that have to get grants, to be able to offer anything for them to get involved with.
They're largely ignored by businesses, as they are a (relatively) small community when compared with for example, the student market.
Luckily here @ WHQ, that doesn't matter to us, as we've never had the same motives or priorities as most other businesses.
See..! You're supposed to use them for luxury shaving - not as a business plan.
Fresh is not just a great & eagerly anticipated monthly event for our friends. For many of them it can be the one chance they get, to go out independently & properly socialise.
So we see this night as an essential service enhancing many people's quality of life. As without it, a entire section of our society will have nowhere to party, make friends, meet partners - all the good stuff.
& that can make vulnerable people really lonely, which you wouldn't like - if it was you.
Some of our customers may need support of one kind or another in their daily lives & this night is a great chance for them to forget all about that.
To simply go clubbing & experience the exact same fun with their chums, that people who don't face the same life challenges (probably you?) can all take for granted.
Sounding like her is a rubbish look & you know it.
No, this has everything to do with you...
Don't say 'It's not up to me', because it is up to you.
The only reason you don't know many people from more marginalised communities, is because you don't reach out to them. You just have to make it happen.
At WHQ we believe that Club life, dancing, social interaction & fun, are for everyone.
Your business may be able to help provide the social interactions & experiences that are the missing pieces, bringing new & real happiness into someone's life. So have a think about reaching out.
So if you are a Club or Bar owner reading this, or run any kind of business at all - Please have little think, about what you can maybe do to be more proactive in engaging with any of the city's more marginalised groups.
It's a thing that you can do, which won't only enhance your business & karma - but real people's actual lives too.
21 amazing years with our Sisters & Brothers & they are always welcome in WHQ.
We can't wait for Fresh to return, which it will as soon, once we are 100% certain that the vaccines have properly kicked in & the Covid pandemic poses zero threat whatsoever to our customers.
One of the Fresh flyers.
A nice little thank you from way back.
---
Related Articles