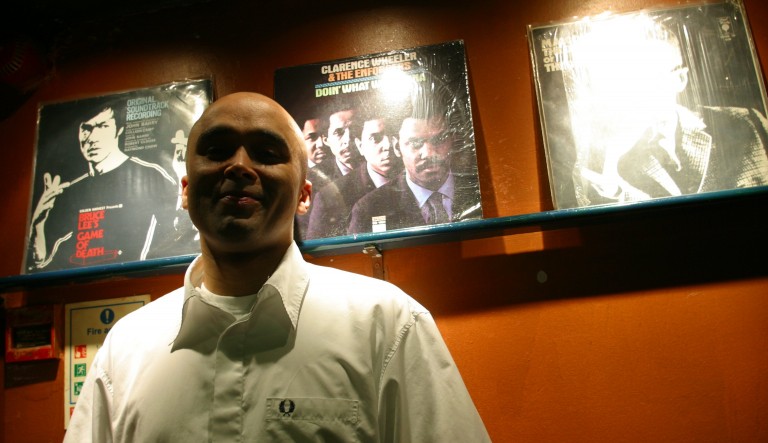 The WHQ Uplifting Groove
'You really had to go & see the World Headquarters Uplifting Groove in full flow on any Saturday night to believe it…
To compare their weekends to anything else in Newcastle, would honestly have been like trying to measure love, or joy with a ruler…'
When music surrounds you
The musical spine of WHQ
Since way back in 1993 when we first opened, right up to the 2020 pandemic lockdown, on weekends, we ran a night called 'The World Headquarters Uplifting Groove,' which was the backbone of our Club. We used just one Dj, our resident selector Tom Caulker, playing solo upstairs for up to 6 hrs every Saturday & most Friday nights.
He also played 8 hr + solo sets at all the big parties that we threw, like our legendary Millennium, Halloween & New Years Eve epics & the occasional massive, outdoor Springtime events we also got the Club involved with.
A lifetime of great music
Staying true to the Old Skool ideal, of one Dj playing the entire night, every weekend, working the crowd, rocking the room, breaking obscure tunes, whilst always keeping all the girls onside, allowed our Club to develop across decades, around his phenomenal record collection. It meant WHQs weekends were 100% consistent, in a 'secret little house party' kinda way. A unique way & one which no other Club in Newcastle then or now, could replicate, or would have the musical shapes to even attempt.
Collected like a maniac
Our WHQ Uplifting Groove nights, were best known for far out Black music, but rare Funk, Hip Hop, Soul, RnB, True House, Reggae & top worldwide exclusive breaks were just part of the deal...
Crossing boundaries has always been our game & it featured loads of great vocals, outstanding conscious tunes & vocal snippets, with none of the drug glorifying, misogynistic, auto-tune twaddle that all the mainstream places peddled.
Much of it super rare.
It was always 'melody central' & you got to hear music like Disco or Motown, in their proper context, alongside Funk, R&B, African, Gospel, the cream of Club classics & all the best tunes that had recently been released.
Add passion & that was it – The WHQ Uplifting Groove really was that far out. No Club night in Newcastle has ever run as consistently, run longer, or achieved as much as it did, by literally building our entire Club, one tune at a time.
At your fingertips
Tom still plays the Club now & again, but these days when he's not still beavering away in the background, you can catch him more often playing at our big WHQ & Nat Turner Live Events shows, at venues all over the country.
---
Related Articles