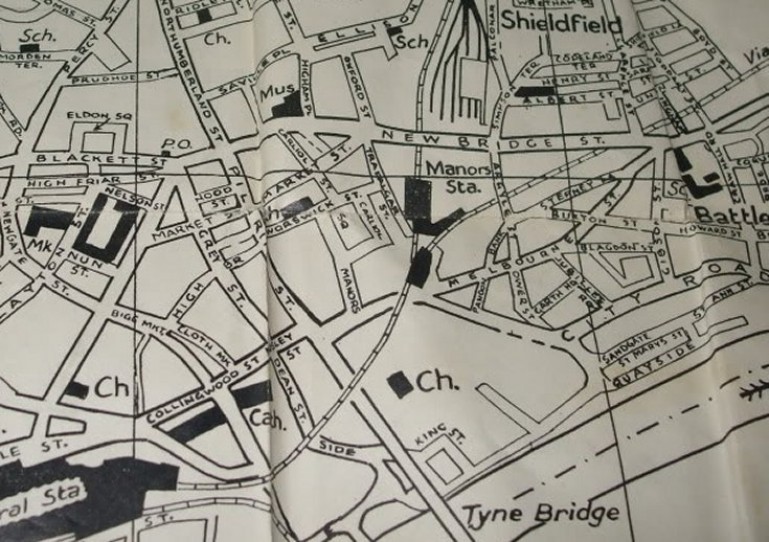 Could this be the answer..?
The City Council's support bought us precious time. Like us, they genuinely wanted to see musical diversity & racial tolerance promoted in Newcastle & they knew the value of WHQ. But the clock was now running down, as time ticked away, so we had to find a brand new home & pronto.
We knew our beautiful little Club would soon be flattened, but would we ever be able to find an alternative location in time..?
We scanned the City, driving around looking (quite literally) at every single building in it, to see if one would fit the bill. Every last one was considered. Eventually we stumbled upon a derelict warehouse, that was then called India House in Carliol Square. The ground floor was advertised as being for up for rent, but we needed way more space than that & a rental was no good to us.
The shop you can see here was long gone, as the building had been on the market for years. We didn't just want the ground floor either, we wanted the rest of the building too.
Off to Gaol with Harald & Brian
Our original site was a freehold, so we weren't up for leaving that kind of security behind. We could potentially end up with some greedy landlord, breathing down our necks & crippling rent increases for the rest of our lives.
Map of early Newcastle, showing Carliol Square & the old Newcastle City Gaol - which is the same site on which WHQ now stands.
The negotiations to get the building were lengthy, complex & immensely frustrating. It took so flippin' long it was daft. The clock was ticking & the pressure kept rising...
We often thought back to Rotterdam & Harald's wisdom. We drew on his wise words, as we swayed gently in the breeze, trying to avoid strangling the numerous slow-coaches we had to go through to put a deal together. It was a proper mission to stay cool & that's for sure, as the survival of WHQ just meant so much to us.
Newcastle City Gaol 1828 - 1925 on Carliol Square. Not that good a night out to be honest, until WHQ came along.
Finally we were able to cut a deal in principal to buy the lease on the building. The problem was it only had 30 years left to run on it. So we negotiated with the Council, as they owned the land the building stood on & eventually, we got them to raise the lease term to something more manageable, that we could then borrow loot against.
That meant we'd own the bricks & mortar rent free, but we did still have to pay the Council an annual ground rent of several thousands of quids for the land the building stood on.
As you can see here, the entrance to the old City Gaol was pretty much where the entrance to the Club is today. No wonder our Halloween night always goes so well... Spoooooky..!!
So it wasn't another freehold, but we could live with that for now if it meant survival. However, we were sharp enough to get a cheeky clause inserted in the new lease...
This guaranteed us an option to buy out the ground lease (for an immense cash sum & a further 150 years), once we'd consistently paid ground rent to the Council for the first ten years.
The cheeky buy-out clause was an Andre 3000 job... Really smart.
We knew the game was long & it's the long game we always play with WHQ, so we were 100% confident we'd still be there in ten years time. Hopefully by that point, we'd be in a position to buy the lease out, by being able to access the mountain of loot that was going to take. We just drew on our experiences & applied some of that long term, Brian Andrews, Arena-type thinking.
Potential A-Go-Go
So everything (in principal), except the loot to do a deal & purchase it, was now in place. It was a really great building, well run down mind, a total dump really... But we could see past all that & recognised the latent potential it had for sure.
Yeah, it had potential alright - the potential to create really expensive dust.
It had everything anyone could want, as a spot to place an Underground Nightclub & was the perfect location for WHQ. It was in a cul de sac, had no passing trade, wasn't on any drinking route & was totally off the beaten track. Yet it was still under 5 minutes from the center of town.
So location wise, it stacked up like pancakes & had amazing potential to become properly established, as our brand new neck of the woods.
'Brothers, Sisters - one day...'
Spend what..?!
But, to get the entire 6 floor building, it was going to cost an absolute fortune & the chunky level of moola involved in then converting this derelict warehouse into a state of the art Nightclub, was gonna be simply ridonkulous..!
Forget that Fang Fairy... Summon up the Hustle Elf instead. We're gonna be needing some more of these little fellas.
Spend this...
The sale of the Old Club wasn't gonna kick up even a quarter of the loot we would need & the only other type of 'currency' we had direct access to, was the mighty dollar of game & hustle.
Stress starting to show a bit pal..? Never mind, at least you've got that lovely pink balloon to tinker with. Why not cheer up, spin Van McCoy & just do the hustle with that..?
We'd always believed that those two 'notional trinkets' can in reality, prove to be the most valuable currency of all. So it was now time to put that to the test...
---
Related Articles