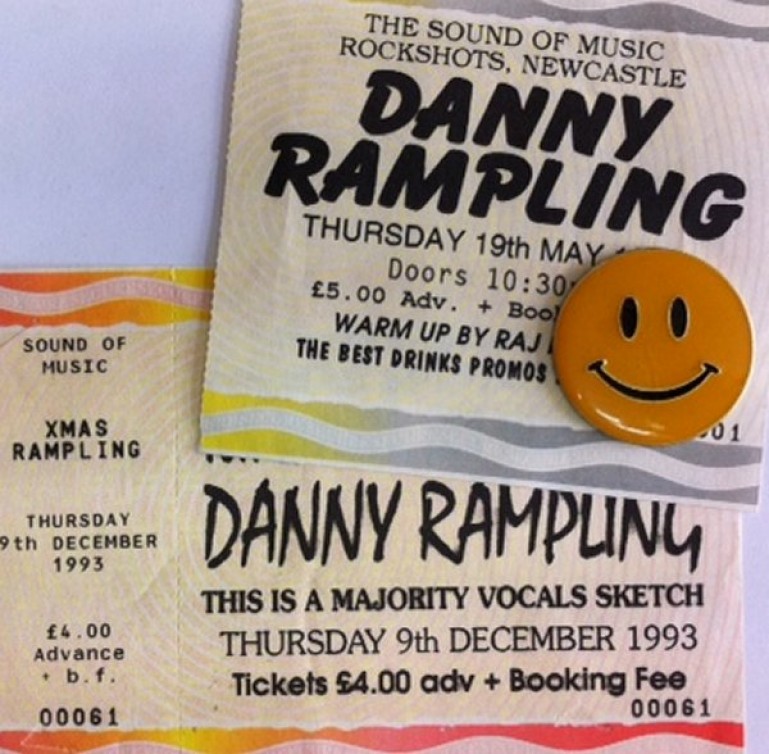 Rockshots & the Club scene in the 90s
On the back of the House music explosion we decided to branch out a bit & mix things up a touch. Rockshots as a Club with us now fully on board, was properly smashing it on both the Gay & straight scenes.
Tommy & Adrian in Rockshots - way back in the day.
So we started to bring Djs like Danny Rampling up from the South to play with us at Rockshots on a Thursday night.
'Shoom' sent the Smiley logo into hyperspace, visually defining the UK's original 'Aceeeid..!!' House generation.
This was a really bold move & the first time London Djs of that stature had ever played up in Newcastle.
We'd seen him spin when we were out in Ibiza & knew we simply had to bring him to play tunes up here. We didn't have to mess on with agents as our friend Martin knew Danny & his wife Jenny. She managed him at the time & hooked us up for a fee of just £300.00
(Editor's note: Yup kids, that's how long ago this was..!)
& guess what..? Total, utter roadblock..!
When we say roadblock, we mean it quite literally... The crowds wanting to get into Rockers that night were so vast, that they actually blocked all of Waterloo Street. It was totally off the hook..!
Original Rockshots flyers
So we worked with Danny & Jenny again & then went even harder at it, with stunning results.
Other clubs & DJs drop by
Now we also looked to other UK Clubs, as similar House music scenes to ours were now springing up in cities all over the country, as the UK-wide, Dance Music explosion took off.
We would work with cool Clubs from other cities like G-Love from Liverpool, Love Ranch from London, Mark & Adrian from Luv-Dup in Manchester & loads more, breaking outside talent & tunes in Newcastle's Underground Club scene, in an attempt to make it even more fun.
The G-Lovers were a fab & massive crew. John Kelly was their main resident & they also rolled with two really cool female DJs called Girls on Top.
G-Love laminate from way, way back.
They had a record label '3 Beat' & would bring different acts up each time they came inc. the amazing vocalists Jennifer John, Connie Lush & Marina Van Rooy.
We had some insane times with them & had the whole city locked into it. They evolved it after a while to rebrand it 'Deep & Devastating' & we always had the most far out afterparty action post show. It really was landmark, benchmark decadence & lifetime memories a go-go.
D&D ticket. Golden - as all those shows truly were.
The Luvduppers (Mark & Adrian) were best described as mad, savage boys. Total 100% Disco fun. They were total fiends, like two mad pirates of the turntables & we had the absolute time of our lives partying together.
As a pair they were the ultimate afterparty animals & several times we had to discipline them in the Trent, on the pool table with our silky skills. Proper, ridiculous, tequlia-fuelled antics, well into the dawn's early light...
When kids saw this on a flyer, they knew it was drop everything... It's time to party.
We had the maddest post Rockers after hours scene, back at the Bar in those early days of the dance explosion. It was nuts & we always showed all our guests exactly how we do it in the Toon - really great days.
Every crew left wanting to always come back - which is...
'Rule 5 of being a great promoter.'
Well yes - it's a good question (& we do read minds) so we'll go into the other 'Rules of being a great promoter' later in the yarn, in the WHQ & Nat Turner Live Events bit.
We worked with loads of really good local talent too, giving those all important first Dj breaks to young guys
(as we all were back then.. Ha!).
Guys like Steven Dunn, Tony Dalgleish, Mike Hawkeye & Raj Pannu, to name just a few of the many great young local Djs who all helped make Thursday Rockers as great as it was.
More on the after hours scene
Below is one of the big, after hours tunes - 'Sweet Harmony.' We'd all be listening to it simultaneously, in different locations, all over the city, as everyone began the process of drifting back to earth, once the Club had finished in the early hours of Friday mornings.
Rockers in the early 90s was so mad, you had to make a point of going somewhere to chill afterwards or you'd never get off to kip.
This kinda sums up the lot of us & how we rolled, way back then…
Here come the Black Americans
Things continued to blow up & we were so successful it was sick...
So we began branching out further, bringing top Black, USA House music legends, like Tony Humphries & the Robert Owens to play deeper, more soulful House sets at our Thursday night too.
These were the absolute heyday of Thursday Rockshots – brilliant, brilliant times. So brilliant, that it felt like every kid for miles around had become totally immersed in all aspects of the Underground Club lifestyle.
Classic Robert Owens & Tony Humphries Rockers posters hanging in the lobby of WHQ.
The end is nigh…
By now the ecstasy tsunami had a proper hold on the city. Other Clubs began to switch on to House Music & we started to see people like charvers, coming into Clubs for the first time.
The pills had taught them to dance, but it was the pills, not the music that led them.
It was here, it all started to kind of diverge away, from where we were headed with our dream of our own Club.
Gobble gobble gobble.
The good times kept rolling on, then suddenly it seemed like overnight, Clubbing had turned into a national industry.
Our Sound of Music Thursday night at Rockshots was listed as one of the top 10 Club nights in the country, by the dance media. We could feel the whole scene about to burst into the mainstream though, as the people listing us had never even been to the Club before..!
The Clubland media scene was now really just a complete con, only interested in selling magazine adverts to what had now become a mass market.
Trance was the enemy for us back then, we just wanted Soulful House vocals & instrumentals that had love in them, which we could relate to. Didn't always get them though, as a lot DJs on the scene were nuts.
That scene was great fun, but living that kinda lifestyle took its toll on a whole generation of clubbers.
The Legacy of Rockshots
Rockshots kept rolling & got madder & madder until our activities there quite literally imploded in the mid 90s. Lucky for us they did, as by that time we had turned a major corner (by finally opening WHQ,) & we were totally re focusing our groove.
Rockers eventually shut after the Police got a proper hard on for Adrian & seemed to endlessly hound the life out of him.
The Club was then converted into flats /offices & almost overnight, the biggest single catalyst in creating what you know as modern Newcastle's Club & Gay cultures – was gone.
Gone but never forgotten x
What a great run we had though, we did 8 years there that properly flew by!
Not just any 8 years though...
Probably the most important 8 years imaginable, in terms of the truly seismic changes in UK Dance music & Club culture that took place on our watch.
We'd had both feet pressed hard, on the musical accelerator of an exploding city, whilst all that decadent, huggy, 'other-worldliness' was going down fresh, for the very first time.
Happy, once in a lifetime days...
Many people remember the Rockers days fondly. Loads of Djs who came later & only played there for short runs still hang their names on it like it was theirs. In some small way for a moment, we suppose it was...
But in reality, it belonged to Adrian & the city's Gay scene that he pioneered & 100% created. It embraced Sally, Peter, Ian, us & all the liberated people, mad kids & amazing Djs who partied their youth away with us, during that inspirational, first & main magical chapter. We are all the ones who made that place.
Rockshots was a truly epic, decadent & liberating institution, that absolutely shaped night life in this City & it is still sorely missed by us all.
We are truly proud to have been so closely associated with it, for so many years, during such an insane & significant time period, in the development of modern music, Club culture & the city of Newcastle itself.
Tommy & Mickey 1990.
The Inspirational Adrian Gadd
The tragic passing of Adrian (Rockshots' owner), in early 2021, further brought home the significance of just what an amazing Club he built with Rockshots.
Adrian Gadd - The Godfather
Adrian was a pioneer & the true 'Godfather' of the city's Gay scene. His open mind & open arms helped nurture those early incarnations of our life in Clubland too, as well as for many others.
He will be sorely missed x.
Tommy & Adrian in Rockshots - way back in the day, back when a 'Pioneer' wasn't something you pop a USB stick in
---
Related Articles