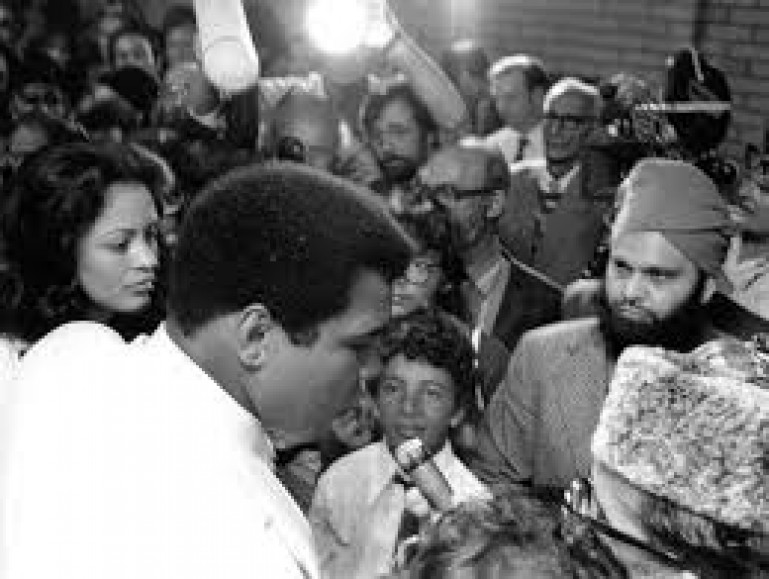 King Of South Shields
The Pitch
Years back, when we ran the Trent House Bar (see Our History), a film company called Bridge & Tunnel got in touch, out of the blue & asked to make an appointment to see us.
We'd never heard of them before & we weren't really sure what they were after, but as we always try to make time for people who make time for us, we met up anyway, to find out…
They were making a film about the Champ.
It turned out they were making a documentary, about a time in 1977, when Muhammad Ali had come to visit the North East, to have his marriage blessed in the Mosque in South Shields, with his wife & baby daughter Hana.
It was going to be called the King of South Shields. The thing was, to complete the documentary, they needed to travel over to America, to Chicago, so they could visit, interview & film footage, with the now adult Hana.
Muhammad & Hana.
They had run out of loot to fund the film & asked us if we would be willing to put some money into it to help fund the trip.
It wasn't like an investment or anything, so we weren't ever expecting to get anything back for it. But we really liked the sound of the project, so we agreed to help anyway.
It was the story of the Champ's visit to the North East.
Our Response
We had already named the downstairs floor of our Old Club (the original World Headquarters in Marlborough Crescent), the Muhammad Ali Cafe, as a tribute to the Champ.
The idea that a little known story about Muhammad might have gone untold if we didn't help out, was not an option for us. We love Muhammad & have loved him all our lives. He has been such a strong, positive influence on us & many people like us, all over the world, for his whole life.
We were there as kids, the day Muhammad came, but the crowds were so vast we couldn't get near him.
The T factor
So if we could assist Bridge & Tunnel to fund the making of this documentary about him, we were certainly well up for it. We always try to help out any artists we can, if we are asked, as we think art matters.
Tina, who was the film's director, made a really big impression on us when we met. We took an instant liking to her, as we could see she was one of us & into the same kind of stuff we were & felt about Muhammad as we did. She loved him too & we could tell that, just from the way she spoke about the project.
Tina is a fine film maker & a great chum of WHQ.
We were not like loaded & just giving money away or anything, but we had such a strong feeling about this idea & all the personalities that were involved, that we were hooked after that first meeting.
So we scuttled about, to try to put what cash we could muster, together for them. When it came time for them to go over to Chicago to film the footage, we went along too & helped humping a bit of the filming gear.
Chicago is a mad place & really fun.
Chicago Illinois
We'd never been to America before, so it was quite an adventure & a bit of an eye opener.
We met Muhammad's daughter Hana, who was really inspirational & we really connected with her as well. We hoped we might get to meet Muhammad, but he wasn't in Chicago at the time we were there, so that didn't come off for us.
Hanging with Hana in Chicago.
We went to his ranch though, which was cool. Muhammad was aware of the film & Tina went back over again, at a later date & she met Muhammad & hooked him up with a copy.
Tina & Muhammad.
B&T & CMH
Some years later, Tina's film company Bridge & Tunnel moved to the 4th Floor of Curtis Mayfield House & it was Muhammad that brought us together.
Tina was nominated for a BAFTA award in 2013 & you can read all about that & her Film Company, over in the Curtis Mayfield House section.
BAFTA nomination is a really big deal.
Muhammad Ali & World HQ Club
It's a cool feeling, knowing we were able to go some little way to helping this documentary get made. We know how much work Tina's gang put into it & we just came in at the tail end.
That's good karma though, after all Muhammad has done for us over the years, by inspiring us to always be brave, to push on & never sell out, or settle for being bums.
Here is one the films trailers...
Muhammad is the Champ & will always be the Champ in our eyes. He is a great, great man & we will always love him.
Here, is our favourite ever Muhammad quote…
Get up, get with it & get at it.
High above the stage in the downstairs Club, to the left as you look up at it, is a picture of Muhammad on the day he visited South Shields, totally surrounded by cops. It's a great image, but one that's so high up on the wall, you may have missed it..?
This picture below, must have been taken moments later. It too is good, but the one in the Club is way better. Look up & check it out the next time you come.
Muhammad surrounded by plod in South Shields back in 1977.
Here is a picture of a little painting our chum Deborah gave us one Xmas. We liked it so much that we got Rachel, one of our art student chums, who was working with us in the Club at the time, to use it as the basis to create the massive Muhammad Ali mural we now have, up in the Club.
It's only about a foot long.
Like the King of South Shields documentary, it is another fitting tribute to the Ultimate Champ & Leader of our Movement for so many years. Rest in Power Brother x.
The massive mural of Muhammad in WHQ Club.
---
Related Articles