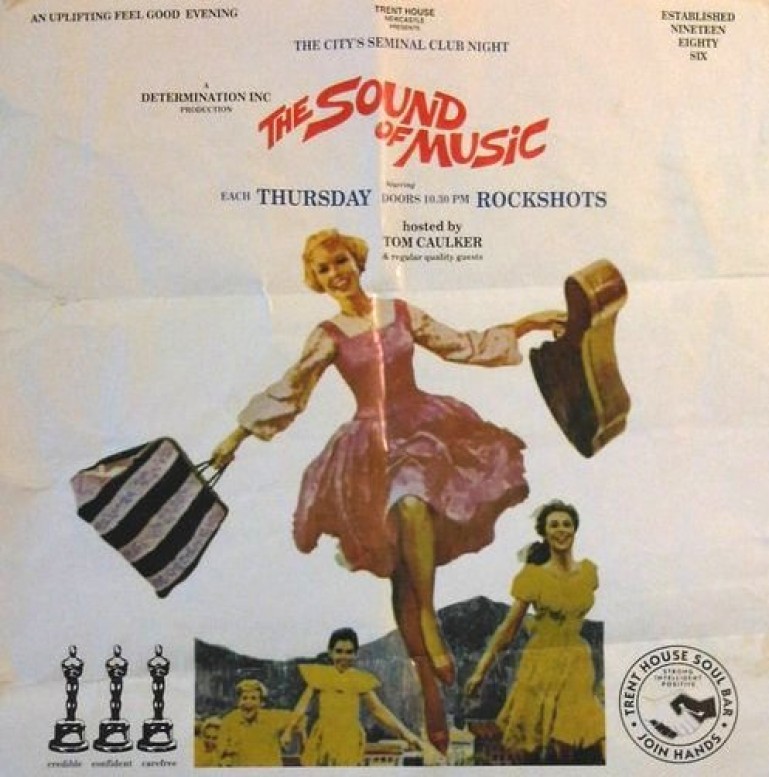 Walls & walls of Club culture
You can see many of the old posters from our past Clubnights covering the walls above your head, as you walk into the front lobby of WHQ today. They go unnoticed to some people, but we feel warmth (& in some cases danger) as we go past them every time. Here's a little guide to the WHQ lobby & the grooves it represents & reflects.
Our Old Skool Art & Club Culture
Below left - 'Mickey Mouse Club' in 1990 @ Club Afrika (which will be fully covered further on).
Below right - 'Chambers' Sunderland, a student do we ran really successfully in the 80s & 90s which was hilarious.
Especially when they eventually decided they wanted all the loot for themselves so they booted us…
Only to return crying a year later, when no one went any more – Oh how they begged… Ha!
Original 80s club posters
Left - Classic Trent Collage poster from around 1990.
Right - 1997 WHQ belter from the Old Club days.
It's nice to have them up in the Club today...
Left - Herb Alpert, showing a dusky young lady his ample horn, in classic from the Old Club.
Right - We opened WHQ at Curtis Mayfield House with this one in 2003.
They remind us of all our crazy capers...
The central poster is lifted from a cover of a supa-rare 60s Temptations Motown album, called 'Wish it Would Rain.'
We used it for Rockshots in the mid 80s.
And just how long we have been in the Club game...
Left - Nice little 'Funky Nasa' (get it..?) jobbie, from around Millennium time from the Old Club.
Right - a really cool 'Eargasm' one from around '93.
It's nice to have continuity like that...
The original artwork for the first ever Rockshots poster, the one that helped put everybody's noses out of joint.
Classic Letraset job. When we printed it in the mid 80s we did it A2.
You have to have your past and understand it...
Super cocky, game coming out of our ears - 1991 job.
An all black A2 with just these words…
To be able to make sense of your future...
Left - The Baby Sax image was used for Rockshots in '89 & also later for Ear*ga*sm.
Right - A great looking image featuring the metal badge & using the Impact typeface.
It still looks really powerful today, no wonder it worked so well.
So keeping Old Skool stuff kicking about...
This image was lifted from a rare Gospel album & listed all the Clubs we did at the time.
A lot of our posters were sampled from rare record covers, the baby one, above was too.
Never hurts...
As House music filtered in towards the end of the 80's, the Thursday night we did at Rockshots started to evolve more in that direction.
We'd given the night a couple of names, at first it was the company name 'Determination Inc' & we then changed that & went for 'The Sound of Music,' using this poster from 1992, inc. all the guests we'd played with that year.
Makes you appreciate all the crazy times past...
The colour poster above & also central in the snap below, as you can see, is for Sound of Music.
The really naff one bottom left, is from the Club we did over in Carlisle, 'The Front Page.'
On the right, are a couple of Ear*ga*sm ones, the lower of which is a really cool image…
The top left image, with the multiracial babies (as you'll read further on), turned out to be a somewhat inappropriate poster for 'Bigbird', the nuts Club we ran up in Edinburgh in 1989.
And it keeps you centred...
Hard Knocks University
Below is a picture of Little Sarah, who kept an eye & clicked our Club night's doors in the late 80s & early 90s.
This was in an attempt to ensure we didn't get (too) heavily financially skimmed by unscrupulous Club owners & gangster doormen.
Still lost thousands & thousands of pounds though, in rip-offs.
All would be gangsters are twats, but that was just the way things were back then. It was Hard knocks University & yet another constant driver for us to keep working, always towards eventually building our own Club.
The Club A-team meets up again, downstairs in WHQ years later...
Eric arrives unannounced...
Now during the period as the 80s played out & the 90s dawned, a new drug called Ecstasy arrived in Newcastle for the first time.
We were smack, bang in the middle of it & honestly hadn't seen that coming at all...
The scene exploded – & we do mean properly exploded.
The classic 'Doves' - honestly they totally revolutionised Clubbing, almost overnight.
---
Related Articles