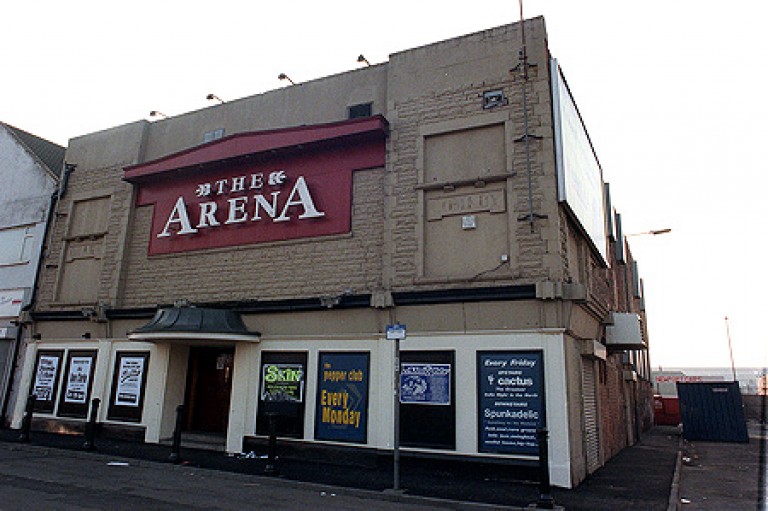 Arena mid 90s & Cornerhouse Middlesbrough
By the mid 90's we had WHQ well on it's feet & always keen to play new places, we accepted an invitation to play a regular Friday night at Middlesbrough's iconic Arena Nightclub. This was a massive place & a nice, 'big room' counterpoint to the homely intimacy of our beloved WHQ.
A great pal of ours, Julian who now runs the Cluny, Dj'd with us back then, doing Fridays in WHQ, so we could go & do the Arena.
Hanging with Hoolio in the Old Club Dj booth. Tight then - tight now.
Playing the Arena taught us a great deal. The guys down there were from a far more advanced Club culture than we had ever had in Newcastle.
Club Havava, Butterloggie & Tall Trees
The Arena was owned by a guy called Brian Andrews & his chums. Brian was the dude who had originally run the legendary Club Havana down in Boro.
What a far out place Havana was - naughty yes, totally on definitely.
Make no mistake, Club Havana was a big deal. Not a big Club, but it was to the introduction & evolution of House music in the North East, pretty much comparable to what Studio 54 had been, to the evolution of Disco in 70s New York. You couldn't possibly overstate it's ground breaking importance.
Brian Andrews was also the original pioneer of large scale North East Dance events like Butterloggie, that took place in 1989.
He went on to champion more events like this & properly evolve them, at a place called Tall Trees in Yarm, where we played for him as well, alongside A Guy Called Gerald.
Mr Motivator
Brian was Mr No Nonsense, Mr Charisma, & most of all – Mr. Strictly Business. He was a total, utter, single minded, proactive, free thinking rebel – as well as our idea of a proper businessman.
The model of total self belief, that is Brian Andrews.
He was also a really cool, funny & at times hardcore Dude – that we liked & looked up to greatly. So we accepted immediately & played at The Arena.
The Cornerhouse
We went on to play a long residency for him again, at a cool new place he opened, again in Middlesbrough, under the railway arches called the Cornerhouse.
This was a Bar / Club & here they mixed music with cutting edge art installations & it made sense & a really big impression on us.
The Corner House, an inspirational venue. You would not believe the number of major acts they were able to get to play here.
Spinning in both Boro venues back then, had a massive influence on our outlook.
The Arena Outlook
We were working alongside a team of really innovative people that Brian had down there. This showed us that you really could do anything & get amazing results, if you just pushed hard enough.
The example the Arena boys set & their single mindedness, helped shape & hone our ambitions.
Graeme Ramsey was a key player on Brian's Arena squad, pictured here in front of the Cornerhouse. We still work together today when we do our big live shows down that way, as he's still an inspirational & visionary grafter.
Every time we went there, the Club would look different & those guys hustled like crazy & didn't miss a trick.
We felt part of something there, saw loads of parallels with what we were up to & took the opportunity to pick up some tricks. We learnt a lot from working as part of their team.
We had a really great time too.
The only remaining snap we have that was taken in the Arena.
Money could have been better, but hey – we liked them, learnt a load, got to play nice long sets of music (9pm – 2am) & had some really big tunes down there.
Having broken House Music in the North East, Brian then went on to introduce Drum 'n Bass, to an at times, baffled Arena Crowd with his seminal 'On It' nights.
Way ahead of the pack.
We all need the influence of people like Brian in our lives, as with him, absolutely anything he could dream of was possible & actually got realised.
A true Leader & so far ahead of the curve – that we haven't seen him in a while… Ha!
---
Related Articles