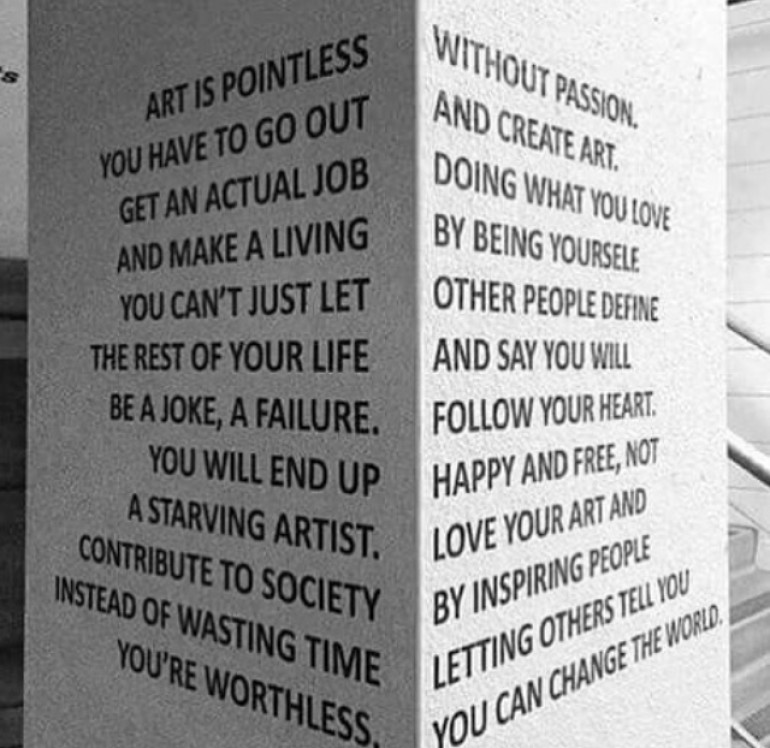 5. Our upper floors
What do we do up there..?
Initially, when we first converted the building in 2002/3 we (obviously) ran out of loot once we had set the Club floors up, so the upper floors just stood empty.
Then we hooked up with our great chums @ Globe Gallery & gave them a floor (sometimes 2) rent free, to house their operations for 8 or so years, tiding them over until they could build up momentum & evolve to acquire their own new premises.
It that time they staged some fab exhibitions & shows.
The World Headquarters way is to always help any organisations we can, that are engaged in making the artistic fabric of the city richer.
So bearing in mind Ground & First are the Club, these days we do all kinds of stuff above that, which we shall fill you in on now...
The 2nd floor up to 2020 - Origin Judo School
Up until the pandemic arrived, we had a really cool & packed-out Judo school running on the 2nd floor, but the pandemic killed it off. Though we had hoped it would return, instead the geezer that ran it now apparently seems to have disappeared off the face of the earth.
Disappeared faster than a Bruce Lee neck chop.
The 2nd Floor from 2021 - Amplify Hire
From 2021 Stuart & Gabriel our pals, who are also key players on the WHQ team, took over this floor for their equipment hire company Amplify.
Amplify Newcastle provide the highest standard of DJ rental equipment at an affordable price. So if you need hooking up with any kit, drop them an e mail to amplifyncl@gmail.com
You need it, they have it.
The 3rd Floor - Mayfield Photographic Studio
Mayfield Studio is a warehouse style rental space above the Club, which is occupied & independently operated by some of our friends. It's a cool place for a photo shoot or to host an event or exhibition.
They have state of the art photographic equipment & facilities for hire & you can also commission them to do bespoke, high end photographic & video projects for you. They do all sorts of stuff & have a great rep.
It's really nice up there...
Bum Direction
They are really slick & a while back, in 2013 they had none other than those 'One Direction' monkeys & their massive entourage up there, shooting a commercial for their brand new fragrance (Hilarious!)
There were so many people in the One Direction production gang, that they used the first floor of the Club as a big changing room for the shoot upstairs.
Below, as you can clearly see, young Harold seems quite enthused to realise, that we clocked his bare arse - twice, while he was getting changed - Nice.
No biggie, was quite spotty actually.
Mayfield Studio chat about this floor…
'Our goal is to make you feel as comfortable as possible – to simplify your day & put your clients at ease. We sweat all of the little things, so you can focus on enjoying your shoot or event.
This beautiful, bright, 3500 sq.ft., photo studio enjoys regular rentals for photo shoots, film projects & private events. From professional photographers to amateurs & many students, all kinds of people & organisations have enjoyed the comfortable vibe of shooting in this spacious yet intimate venue'.
'We are tucked into a corner in the centre of Newcastle Upon Tyne. Just five minutes walk from the Manors, Monument & Central Station Metros, we're also directly opposite a large car park.
We can supply photographers, make up artists, models, stylists, film crew, production services, catering & assistants, printing services. If you ever need something, just ask us, excellent customer service goes without saying'.
Nice & comfy
So that's our chums' cool, photographic, artistic place. Sounds & looks a bit good doesn't it..?! Yup, it most certainly does, so check them out.
Click here to see their website & get info on hire rates, equipment specs, or to get in touch with them directly.
They are a really nice bunch of people, doing a great thing, that is a major asset to our long term overall vision for Curtis Mayfield House & we like their slick, hip groove a lot.
Photography innit...
The 4th Floor up to 2021 - Bridge & Tunnel Voices
We first met Bridge & Tunnel a good few years ago, when we put a little bit of money into an experimental documentary they were making about Muhammad Ali's 1977 visit to South Shields.
Funds to film in America were needed to finish it, so we chipped in, as we love Muhammad very dearly.
A bit later we also visited the USA with them & hung out with Ali's inspirational daughter Hana…
Tommy & the wonderful Hana Ali in Chicago
All about B&T
Bridge & Tunnel Productions is an independent media production company that produces a mad range of unique, exciting & challenging cinematic art, both mainstream & community based. It is run by our friend Tina & her chums. Basically, they make great, meaningful films…
As film makers go, they are at the absolute top of their game. Sir Ben Kingsley was a patron of one of their feature films & said of it…
'In our economic climate this is a film of vital importance… Tina aims to make a life-enhancing film. An important and much-needed film."
It's called 'I am Nasrine' & is a really moving, cool film. It won Best Screenplay at the Brooklyn Film Festival 2012. Tina was also nominated in the 2013 prestigious BAFTA Awards, as Best Director, for all her work on making the movie.
Here's the trailer for it, you'll be amazed how effortlessly cool it all looks...
Their Charitable angle...
As well as their film production work, they've a sister charity organisation, Bridge & Tunnel Voices.
That's what they had based on our 4th floor up to 2021.
Here they did educational & charitable activities, like development & delivery of interactive online projects, training & production schemes, for loads of diverse communities & youngsters, looking at racism, community cohesion, migration-type stuff.

Bridge & Tunnel have made some outstanding films & are true friends of ours, who we were very pleased to be able to have here in Curtis Mayfield House with us. They brought a whole new angle to our building & complimented the overall WHQ Groove extremely well. They now have offices over in the Baltic 39 building on High Bridge.
The 4th Floor from 2021- Inspired Support
Inspired Support are some Old Skool chums of ours, who we met when we got them to run the Dance Tent @ the Unity Festival back in 2015 (see Our History section).
They are an innovative organisation which mentors people with Autism Spectrum Conditions & learning disabilities in order to achieve their full potential. They work with a wide range of people from those who are high functioning, to those who are more complex & experience social communication difficulties, requiring very specific interventions.
They've just recently moved in & we look forward to working with them once they are up & running, providing great & essential services to a community that are all too often overlooked.
We'll get some pics up of them soon, but for now here's a link to their website https://www.inspiredsupport.co.uk/
The 5th floor
The top floor we have yet to develop, but in the current climate with us focussing 100% on the Club's post Covid rebirth, even in a best case scenario that's probably gonna be a bit of a way off.
Could end up being anything, as long as it's artistic & good.
---
Related Articles