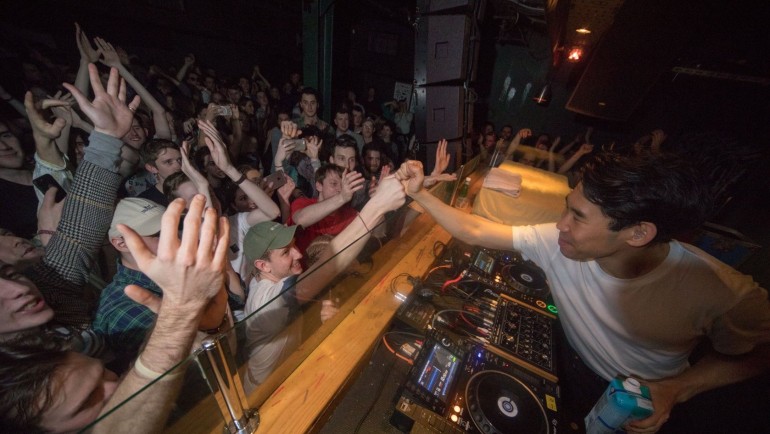 A nice long list for the DJ nerds 1993/2022
Make yourself comfortable
Below are just some of the many national & international artists that we have hosted, since WHQ reopened at Curtis Mayfield House in 2003. One or two played the Old Club, but it was once we got the bigger capacity @ CMH that we really went at it.
From the Old Skool vinyl heads...
We'll keep updating it as there's bound to be loads we've missed. Just mad busy & can't remember everything y'dig..?
To the Nu Skool technical whizz kids of today.
So when you spot any omissions, lettuce know so we can add 'em in, especially local bods, as there's been so many of ya & we want to ensure your names go there, as you are a massive part of WHQ history.
It's a long, long, list... One that will no doubt bore you to tears, unless you are a musical or Dj nerd, currently unbuttoning your pants…
Aye - the palma y'flippin' hand pal.
Assuming that wasn't a picture of you & your chosen love partner is still a real, actual person, please feel free to skip straight down & hit 'next' to jump over to the following page.
We won't mind & it might be best if you don't see what's about to go down.
Alternatively, you could ask a your DJ nerd friend to pop over & you can enjoy the list together..?
As we fear things in DJ Nerdland, may be about to get a wee bit messy...
Soon as WHQ @ CMH opened, we immediately set about raising the game & it was book your heroes time... Frankie really got us, loved the Club & was one of greatest DJs & nicest fellas we've ever met. May he always rest in melodic, uplifting peace x
Tissues at the ready
Now we're all going to look away, so that those of you who are Dj nerds, can (properly) enjoy this tender moment, with a little privacy...
Our Detroit Bro Moodyman & everyone else, who is anyone really great, has played in WHQ.
Moodyman, Mark Ronson, Frankie Knuckles, David Rodigan, Iration Steppas Soundsystem, DJ EZ, David Guetta, DJ Derek, Four Tet, Brenda Fassie, James Lavelle, The Reflex, Giles Peterson, Benga, David Morales, Maxi Jazz (Faithless), Jazzie B (Soul to Soul), Caspa & Rod Azlan, Zane Lowe, Roots Manuva, Soul Jazz Records, Trevor Nelson, Bloc Party, Joe Hot Chip, Congo Natty & Tenor Fly, Nanci & Phoebe, Congo Dubz.
David played WHQ 3 times back around 2006/7, prior to him really blowing up globally. We don't know where they all came from, but the entire Club was packed full of French girls every time...
David Holmes, Top Cat, Prince Paul, Biz Markie, Man Like Me, London Elektricity, Mary Anne Hobbs, Toddla T, Greg Wilson, Alix Perez, Nu:Tone, Paul Woolford, Benny Page, Vandal, Channel One Sound System, Redlight, Joy Orbison, Aba Shanti I Sound System, Serial Killaz, Aphrodite, Spencer Parker, Jesse Rose, Dj Zinc, Tom Middleton, Calibre, Funk D'void, Jerry Dammers (The Specials), Smoove & Turrell, James Zabiela, Scott Bradford, Steven Dunn, Mark Rae.
Mark Rae - Inspirational tune constructor & DJ. Check out his Bandcamp page for tonnes of dope tunes. Mark recently wrote a book & also does some great Fbk lives on his profile too, breaking it all down.
Mr Scruff, Second City, Richard Searling, Prince Fatty, Dennis Ferrer, Elliot Adamson, Hedex, Upgrade, Andre Hommen, A Guy Called Gerald, Hazard, Guv, Traumatik, Biggie, Bez (Happy Mondays), Amir Alexander, Romare, Dusky, Dan Shake, Scuba, Marquis Hawkes, Tama Sumo B2b Prosumer, Jane Fitz, Levon Vincent, Nick Hoppner, Man Without A Clue, Kokolo Afrobeat Orchestra, Marshall Jefferson.
Marshall Jefferson is one of the true original USA House Dons. He so loved the Club - what a Dude..!
Pangea Soundsystem, The Bug, Crissy Criss, Macky Gee, Majistrate, Taxman, Dilate, Devilman, Dj Guv, Harry Shotta, Friction & Linguistics, Nu Elelentz, Ic3, Skibadee, Stormin, Phantasy, Marcellus Pittman, Dimensions Soundsystem, Dirty Dike & Sammy B-Side, Sinai Sound System, Common Unity, Dubkasm, Ital Guidance Sound System, Biome, Distance, Tunnidge, Thelem, Dj Madd, Kromestar, Mc Brakeman, Steve Butler, Todd Terry.
Jayda G is such a great Dj & chum of WHQ, it's always fab to have her supa -Soulful dance grooves in the place & she is amazing.
Ras Demo (Demolition Man), Rodney P, Dj Shepdog, Dillinja, Goldie Lookin Chain, Phatworld V Squire Of Gothos, Spooky, Jinx In Dub, General Levy, Marvellous Cain, Jungle Citizens, Ragga Twins, Spectrasoul, N3gus, Mc Strategy, Fred V & Grafix, Mutated Forms, Crazy P, Taiki Nulight, Melã, Groove Chronicles, Woz, The Menendez Brothers, Zed Bias, The Newham Generals.
Ms Dynamite smashed the Club, smashed the Unity Festival in Leazes Park for us, then came back smashed the Club again. She is one of us & we love her.
Antal, Mungo's Hi Fi, Route 94, Breakage, Mj Cole, Marcus Intalex, Daddy G (Massive Attack), Count Skylarkin', Underground, Sub Zero, Jaydan, Dj Kon, Indicator, Al Zanders, P Money, Jammz, Rick Fury, Yoshi Riot, Rex Regis, Bake, Terekke, Jon K, Graeme Park, Kahn, Neek, Dave Haslam, Dean Paul Walton, Hyde & Beast, Tom Spirals, Kano, Aj Tracey.
Aj first played the WHQ in the early days of Grime when we were the only ones in Newcastle on it. 3 more shows here & Grime had exploded & he was off to play arenas. A really lovely guy - again humble, as all the best artists we meet seem to be.
Royal T, Plastician, Nightshift, Grafta, Aries, Kahn, Sir Spyro, Elf Kid, Novelist, Sukh Knight, Squarewave, Logan D, Mc Shabba D, Nomine, Wen, Flowdan, Four Owls, Ivy Lab, Audiojax, Horse Meat Disco, Hundred Watt Club, Kissy Sell Out, Audio, Insideinfo, Prince Fatty, Horseman, Slipmatt, Eva Lazarus, Solo Banton, YT, Charlie P, Ray Keith,
Four Tet is another Dj who loves the Club & he tipped Daphni off about us & he came too. We had to cancel a sold out show with Kieran we had booked in, for the day after the UK locked down for Covid. Hopefully we'll be able to get him back soon.
Daddy Freddy, Deekline & Rsd, The Heatwave, Asbo Disco, Don Caesar, Dreadsquad, Jacky, Danny Byrd, Bunty, Ed Solo, Stevie Wonderland, TC, The Prototypes, Tonn Piper, George Fitzgerald, Dr Syntax & Pete Cannon, Jman, Physiks, Dub Phizix & Strategy, Roska, Youngsta, Proxima, Aphrodite, Bradley Zero.
Bradley Zero is a great chum of WHQ & always totally smashes it - Great taste in shirts too..!
Buggsy & Royal T, Theo Kottis, Sunship, Digital Mystikz (Mala & Coki), Nitin Sawhney, Evil 9, Instrument of Jah Soundsystem, Dj Champion, Grandmixxer, Swindle, Flava D, Elijah & Skilliam, Chimpo, Ms Dynamite, Squire Of Gothos B2b Phatworld, Mumdance, Sticky, Addison Groove, Dj Luck & Mc Neat, Oxide & Neutrino, Sully, D Double E, Murlo, Tippa, Kry Wolf, Mella Dee, Dense & Pika.
We were so privileged to have Frankie Knuckles play WHQ before he passed. A true legend, a lovely humble guy & as so many of the USA Djs seem to, went nuts for the Club & took a bunch of photos of all the record covers behind the bar before his set.
There are tonnes more we still need to add, as we've only just started checking back through all our diaries, so the list will increase & go on & on.
Always recall the afters, as Davey from Wylam who was promoting the show, whupped him on the pool table & then uttered the immortal words... 'I thought you said nobody beats the Biz..?' - Classic..!
Anyway, we'll assume all you Dj nerds have had a happy ending.
So we'll leave it there for now with the lists – before your bellends drop off.
---
Related Articles