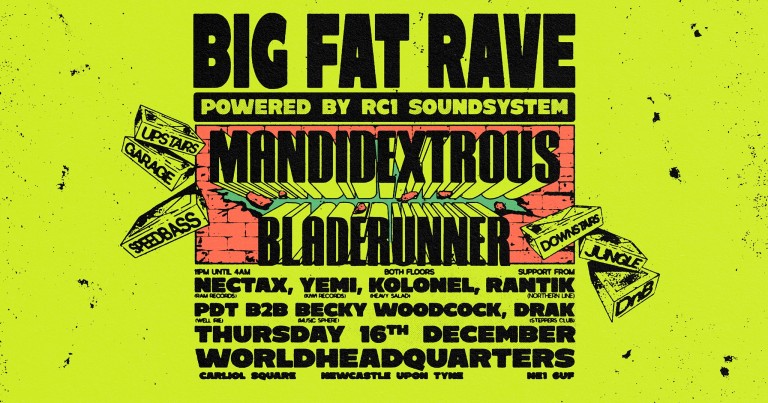 Big Fat Rave : Bladerunner, Mandidextrous & RC1 Sound System
BIG FAT RAVE IS BACK & this time we're taking over BOTH floors of WHQ.
Tickets £8-£15

On Sale Wednesday 6pm.
Don't hang about!
Thursday 16th Dec | 11 - 4
@ World Headquarters
After our first SELLOUT event in September we're upping the shenanigans, showcasing some of the best DJs and soundsystems the world has to offer. This time we bring you Bladerunner, Mandidextrous & the mighty RC1 Sound System
ONE BIG FAT LINE UP:
Downstairs: Jungle / Drum n Bass

BLADERUNNER

NECTAX

KOLONEL

RANTIK
Upstairs: Garage / Speed-Bass / Tek

MANDIDEXTROUS

YEMI

PDT B2B BECKY WOODCOCK

DRAK
Labels:
Ram Records | Amen4Teknorecords | Hi-Resolution Recordings | Hospital Records | Souped Up | Four40rekords | Kiwi Rekords | Slime Recordings | Music Sphere | Ape-X | Well Irie | Heavy Salad | Northern Alliance | Steppers Club
---------------------------------------------
Sound system culture is a huge consideration for us so we are very excited to be bringing one of the best soundsystem's in the UK; RC1.
RC1 Sound System is known for its absolutely insane bass levels, occasionally setting off local car & burglar alarms.
This will be the most heavyweight bass the toon has ever experienced

---------------------------------------------
Personal Safety:
We are very lucky at BFR as our beautiful big fat family are always looking out for you. So if this is your first time dancing with us make sure you adopt the same attitude and always look out for each other. Please go find a member of security if you see any dodgy behaviour as no one should feel uncomfortable while on a night out!
---
Upcoming Events