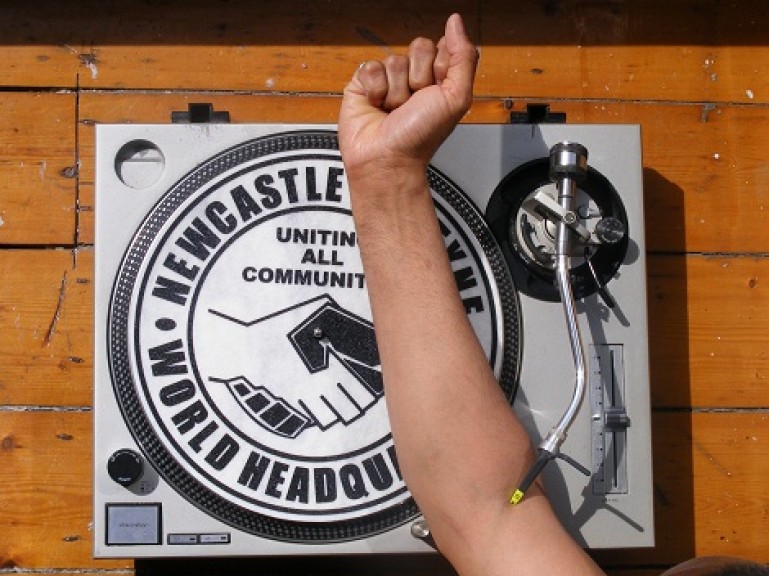 3. The Uplifting Groove
'You really have to go & see the World Headquarters Uplifting Groove in full flow on any Saturday night to believe it…
To compare their weekends to anything else in Newcastle, would honestly be like trying to measure love, or joy with a ruler…'
Most weekends, we run a night called 'The World Headquarters Uplifting Groove,' which is the backbone of our Club. We use just one Dj, our resident selector Tom Caulker, playing solo upstairs for up to 6 hrs when the room isn't hired out for major international DJ shows.
Tommy at it.
He also plays 8 hr + sets at the big parties that we're so well known for, like our legendary Halloween & New Years Eve epics & the occasional massive, outdoor Springtime events we get ourselves involved with.
Full on musical justice.
Staying true to the Old Skool ideal, of one Dj playing the entire night, has allowed the Club to develop around his phenomenal record collection in a constantly evolving, 'secret little house party' kinda way, which no other Club in Newcastle these days, would dare even chance…
No artificial additives
This groove ensures that nowhere else even comes close, to matching WHQ's intimacy, atmosphere, or reputation for dropping really bomb tunes & means we have the weekend totally locked down.
We also host many outside promoters who do a myriad of diverse music nights, midweek & at weekends too. See 'What's On' in the top menu, to check out exactly what's on this weekend…
Jayda G - rocking 'Reasons to be Cheerful' @ WHQ.
---
Related Articles